Doosan Heavy Industries of South Korea recently finished the hoisting of its first 8MW offshore wind turbine. The prototype (DS205-8MW) is installed at the national wind power demonstration center in Baishui, Lingguang, Quannan Province, South Korea, and the turbine is planed to start commissioning and grid connection at the end of February 2022.
The operational data and the technical specifications of DS8MW wind turbine are as follows:
Blade Length: 100m
Rotor Diameter: 205m
Tower Height: 130 m
Blade Tip Height: 232.5m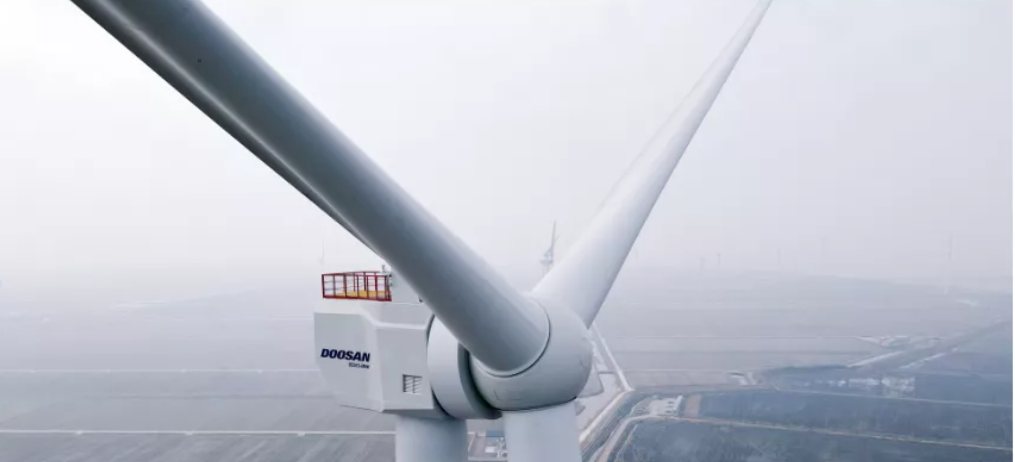 The wind turbine unit achieves full power generation at the wind speed of 11 m/s, and the power generation efficiency is more than 30% at the wind speed of 5 m/s. The prototype adopts the direct drive technical route, and the type certification is in progress. It is expected to be commercialized in June 2022.
Doosan Heavy Industry set up its second wind turbine plant in 2021 in Changyuan head office and added manpower to cope with the increase of domestic wind turbine orders. In 2021, Doosan Heavy Industries also signed an equipment supply agreement with Jeju Hanlin offshore wind farm (100MW), the largest offshore wind farm in South Korea.
Doosan Heavy Industry, founded in 2005, is a construction machinery company under Doosan Group of South Korea. At present, new energy has become its first main business, and wind power is its key development direction. It is reported that Doosan Heavy industry currently has a cumulative installed capacity of 339.5MW (97 sets) of wind turbines, and has a wind farm with an installed capacity of 1663.215MW in South Korea.
Source: WindDaily
Edited and translated: Following The Wind