Recently, the procurement of wind turbine (including tower, anchor bolt and anchor plate) of China Resources Power Ulat Zhongqi 100MW wind power project was opened.
There are 9 wind turbine manufacturers bidding for the project. The average quotation is equivalent to the unit price of 2101 RMB/kW. The lowest quotation is offered by Envision, which is 1889 RMB/kW. The bidding wind turbine models are all 6X platform.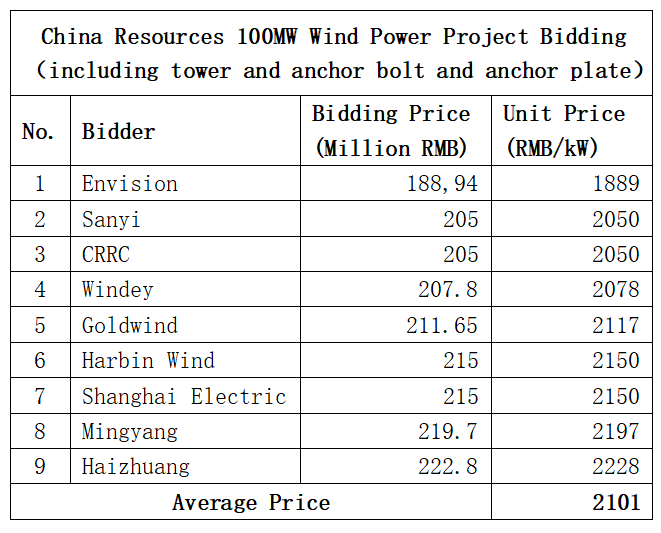 Not including the tower (about 350 RMB/kw-450 RMB/kW), the lowest quotation is converted into the unit price of about 1439 RMB/kW-1539 RMB/kW.
The bidding requires that the unit capacity of the turbine shall not be less than 5.0MW (including 5MW) and not more than 6.7MW (including 6.7MW).
Delivery conditions of tower and wind turbine:
The first batch (10 sets) shall be delivered before May 15, 2022 (including necessary tools and instruments for hoisting);
All the remaining towers and wind turbines shall be delivered before June 15, 2022.
Source: Windmango
Edited and translated: Following The Wind