Key words: Offshore wind power, Bid price, Grid parity, Wind power installation rush
Abstract: The price of China offshore wind power has increased greatly from 2019 to 2020 mostly caused by the national subsidy policy which will be canceled in 2021, also partly because of COVID-19 which suspended the installation work for months.
Text:
In 2020, with the implementation of the cancellation of national subsidy policy for offshore wind power and the impact of installation rush, the price of offshore wind turbine raised from about 6000 RMB/ kW in 2019 to about 7000 RMB/ kW. Moreover, due to the impact of COVID-19 on the industrial chain, the shortage of production capacity has also a great impact to the increasing price.
Based on the public information regarding the results of China offshore wind power projects, the average bid winning prices per turbine from 2019 to 2020 increased around 1100RMB/kw.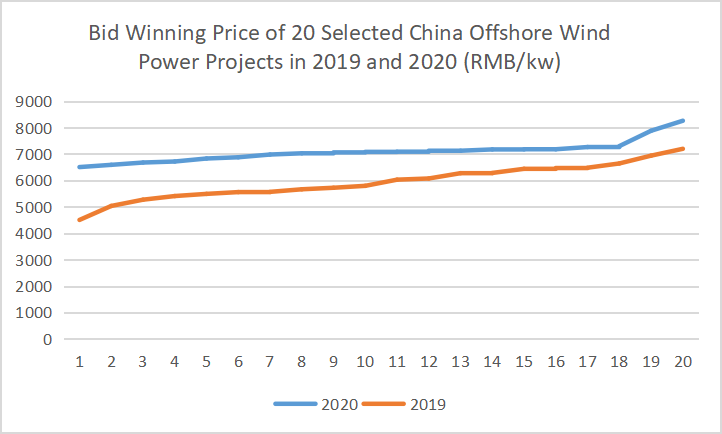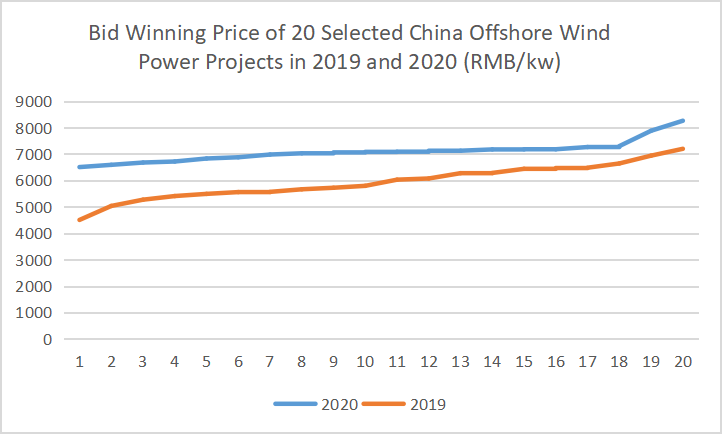 In 2019, the average price is around 5900RMB/kw, and in 2020, the average price is around 7000RMB/kw.
Extended reading:
China will start implementing grid parity for onshore wind power projects from 2021.With the gradual reduction of technology cost and power generation cost in the wind power industry,the feed-in tariffs are ready to be lowered. China has formulated a series of policies to adjust the feed-in tariffs of wind pow-er, which has been reduced from the initial 0.51-0.61 RMB/kWh to 0.29-0.47 RMB/kWh, laying a good foundation for the implementation of grid parity.
Source: www.BJX.com.cn
Translated and edited by:minds:connected