Keywords: Sunrui, 102m Blade
Text:
On February 8, 2021, Sunrui Wind Power's 10MW-SR210 blade was successfully produced in their Yancheng blade factory, Jiangsu Province, with a blade length of 102m and a rotor diameter of 210m. In 2017, for the first time, Sunrui broke the world record with 5MW-83.6m blades. This time, Sunrui sets a new Chinese record with 10MW-102m blades.
SR210 blades are suitable for class I wind area, with high wind energy conversion coefficient. The annual power consumption of a single turbine can meet the annual power consumption of 50,000 Chinese households, and the annual carbon dioxide emission can be reduced by 50,000 tons. The successful offline of the blade further consolidated the industry position of Sunrui as the leader of offshore blade, met the urgent requirements of customers for the future development of offshore MW-wind turbines, established a new industry benchmark, and injected new powerful development power into the upgrading of Sunrui wind power product structure and the medium and long-term sustainable development.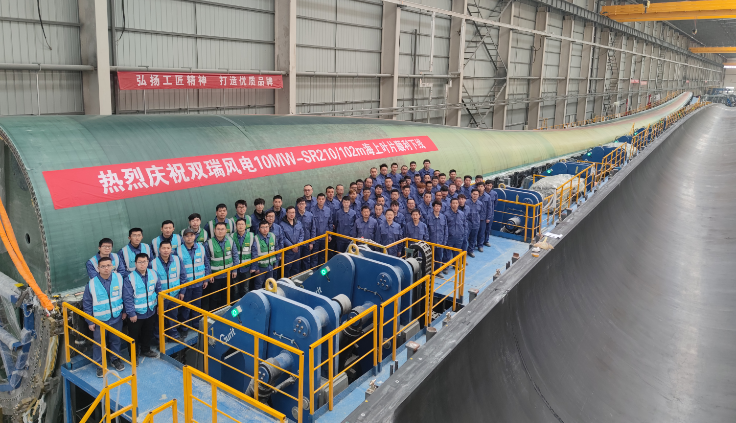 Safety and reliability is the first priority. SR210 blade adopts composite spar cap system to improve the structural stability of blade. The key main bearing structural materials have been verified in the long-term stable operation of offshore wind turbine. The test and verification of composite lightning protection system has been completed in advance. Together with SR-LE-Shield, the fourth generation protection system of Sunrui, it will effectively solve the problem of leading edge protection of offshore blade and ensure the safety and reliability of offshore wind turbine blades.
Innovative design improves efficiency. SR210 blade innovatively adopts the design of trailing edge aerodynamic enhancement components, which takes into account the requirements of excellent aerodynamic performance and structural design space, and realizes structural weight reduction. During the development process, the aeroelastic modeling simulation and mechanism research were carried out in depth. Through the aeroelastic cutting and laminating design, the structural stability was improved, and the key aeroelastic problems of 100m blade were solved. The main bearing parts of the structure are made of lightweight materials, which can meet the design strength requirements and achieve the optimal cost.
Customized development reduces costs. SR210 blade is a highly customized product of offshore wind power. In the design process, it is closely combined with the turbine to carry out the integrated design, taking into account the blade lightweight and turbine system load minimization, so as to achieve the best matching with the turbine system, and greatly improve the economy and competitiveness of 10MW wind turbine.
Source: Sunrui Blade
Edited and translated: minds:connected