China Wind Power (CWP) 2021 was held from October 18 to 20 at China International Exhibition Center (New Venue) in Beijing. 600+ companies presented on the exhibition which attracted 60.000+ visits during 3 exhibition days.
The leading wind enterprises presented their latest products and achievements at China Wind Power 2021:
Goldwind
Goldwind has launched a new generation of medium speed permanent magnet intelligent wind turbines, including onshore wind turbine series GWH 171-3.85/4.0/4.5/5.0/5.3/5.6/6.0/6.25MW and GWH 191-4.0/4.55/5.0/6.0/6.7MW, and offshore wind turbine series GWH 242-12MW. The newly released medium speed permanent magnet platform has the characteristics of high reliability, power grid friendliness and strong scene adaptability. It realizes intelligent comprehensive upgrading in terms of intelligent perception, intelligent diagnosis and intelligent coordination, and drives a zero carbon future with a series of high-performance flagship products with high reliability, high revenue and more friendliness.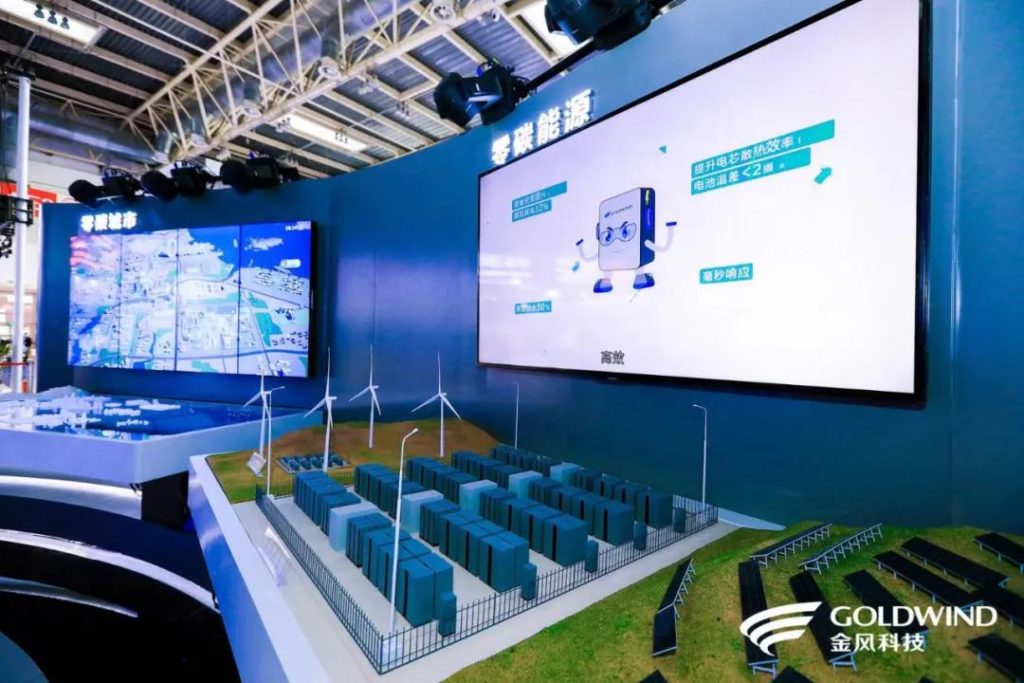 Mingyang
On October 19, 2021, Mingyang released MySE11-16MW series, the world's largest self-developed floating wind turbine unit. This is another industrial breakthrough of Mingyang after the first MySE5.5MW floating test wind turbine unit in China was offline at the end of May 2021. In addition, Mingyang also released MySE7.X MW, the world's largest onshore wind turbine unit with the biggest single unit capacity.
China General Certification Center issued wind turbine unit certification certificates to Mingyang for MySE6.0MW model, MySE16 model and MySE5.5-155 floating model. DNV issued MySE11 and MySE16 unit certification certificates to Mingyang. TÜV North Germany issued the SSDA Certificate (site specific design evaluation certificate) of Italy Taranto offshore wind farm project to Mingyang.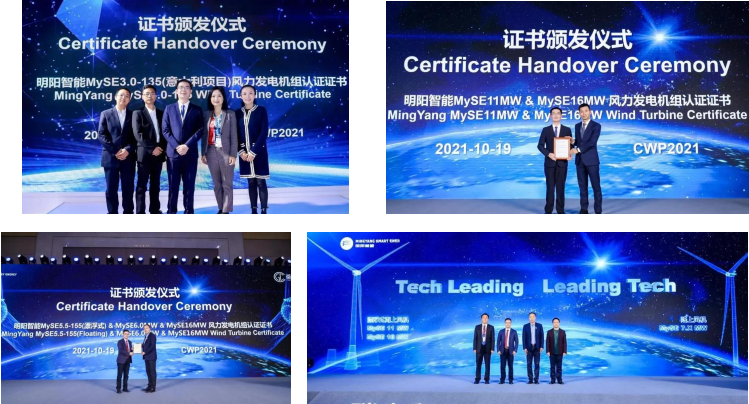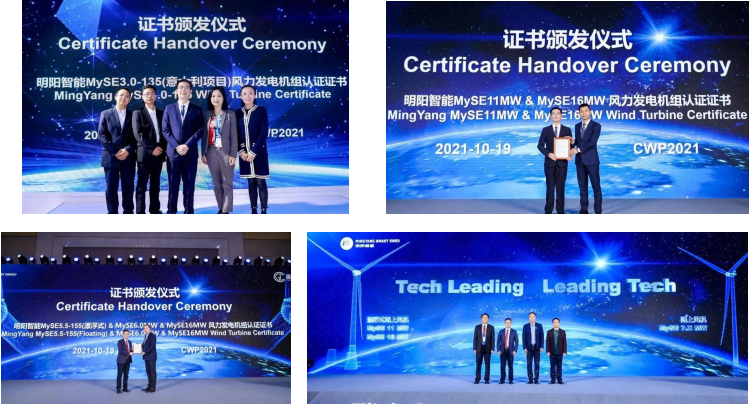 Envision
Envision released China's first core engineering software for wind turbine system design (Envision ENFAST) and obtained the certification certificate issued by the authoritative testing and certification organization. Through in-depth prototype verification of vision and horizontal comparison verification of other commercial software packages, Envision ENFAST has undertaken the development of Envision self-developed blades, Model Y platform and the design of wind farm solutions.
During CWP2021, Envision also released its EN-200/7.0MW and EN-190/8.0MW parity units belong to Model Y offshore product platform towards the Chinese market, and released the "Rational Parity Map Of Offshore Wind Power In China".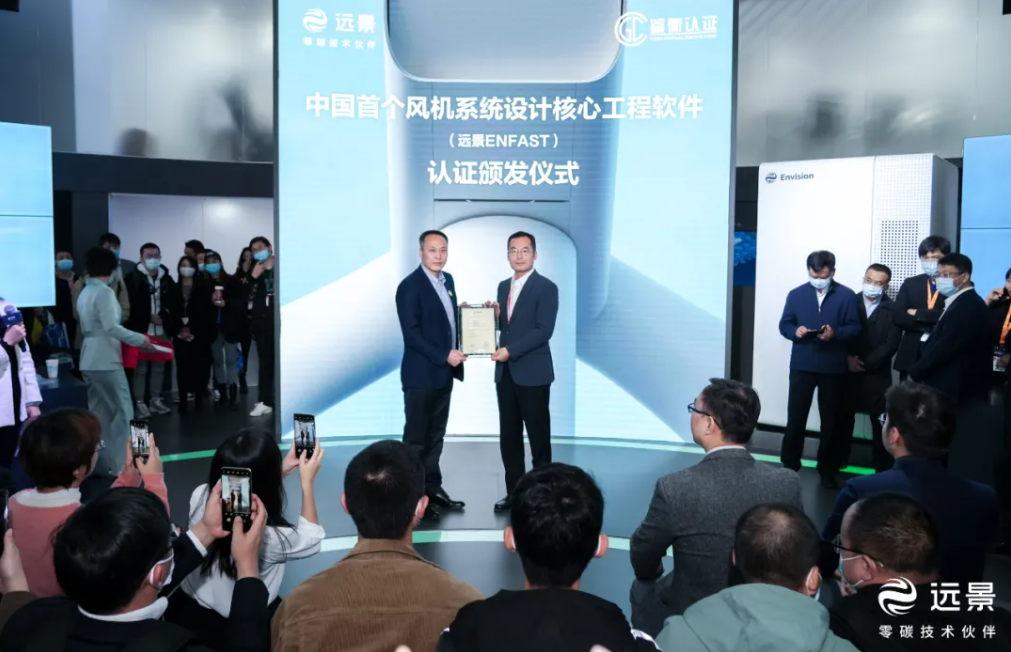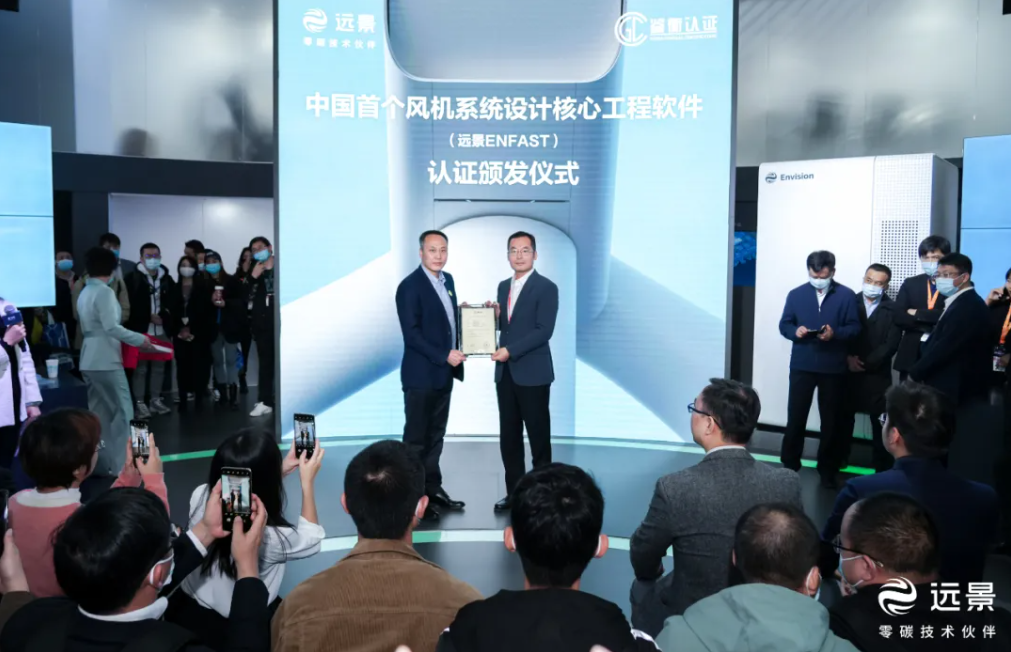 Windey
On October 19, 2021, Windey held the certification ceremony of international SOC certification of wind power operation and maintenance service capability with TÜV Rhine, Germany.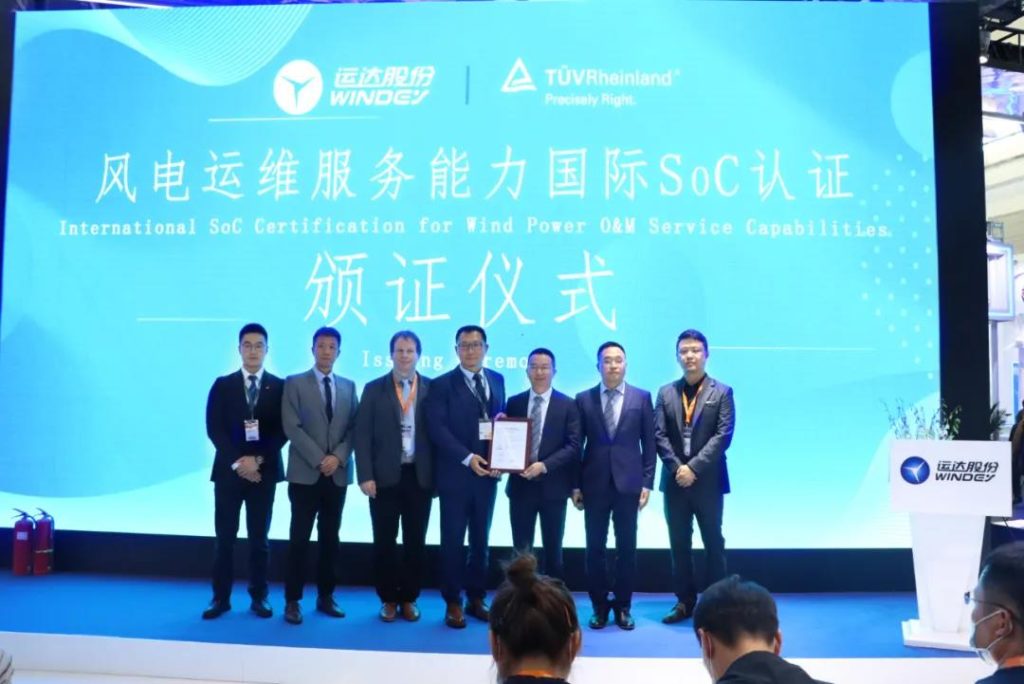 DEW
On October 18, 2021, Dongfang Electric Wind Power Co., Ltd. (DEW) held a press conference of 13 MW offshore wind turbines at the CWP2021 in Beijing. China General Certification Center issued the design certification certificate to DEW.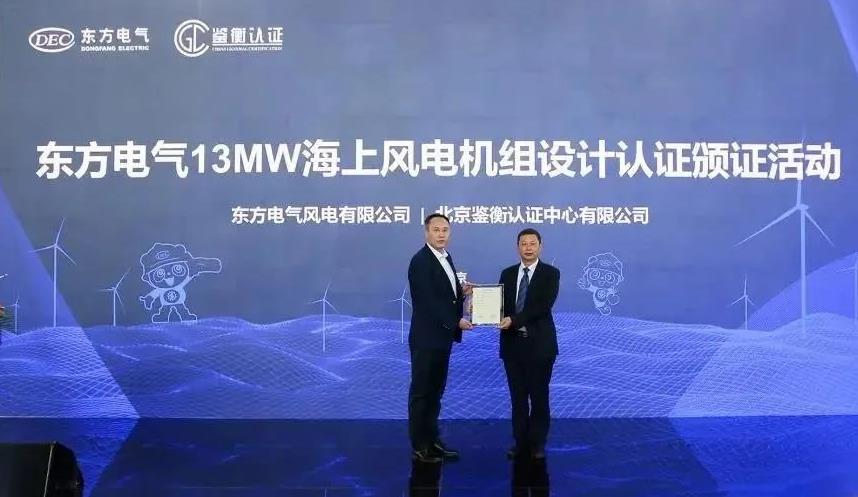 Shanghai Electric
On the afternoon of October 18, 2021, the release ceremony of EW8.0-208 unit of POSEIDON platform of Shanghai Electric Wind Power was held at their booth. On the morning of October 19, Huang Xuan, director of offshore product line of Shanghai Electric Wind Power, once again released and introduced two new offshore models, POSEIDON platform EW8.0-208 and petrel platform EW11.0-208; Wang Haiyang, product manager of Shanghai Electric Wind Power, released the latest models of onshore Zhuoke platform – WH4.65N-192 and WH5.0N-192.
At the same time, Shanghai Electric Wind Power held the certification handover ceremony for two ultra-low wind speed units on Zhuoke platform, and the two new products were officially awarded the design certification certificate by China Quality Certification Center; and the certification handover ceremony of the first zero carbon park of Shanghai Electric Wind Power.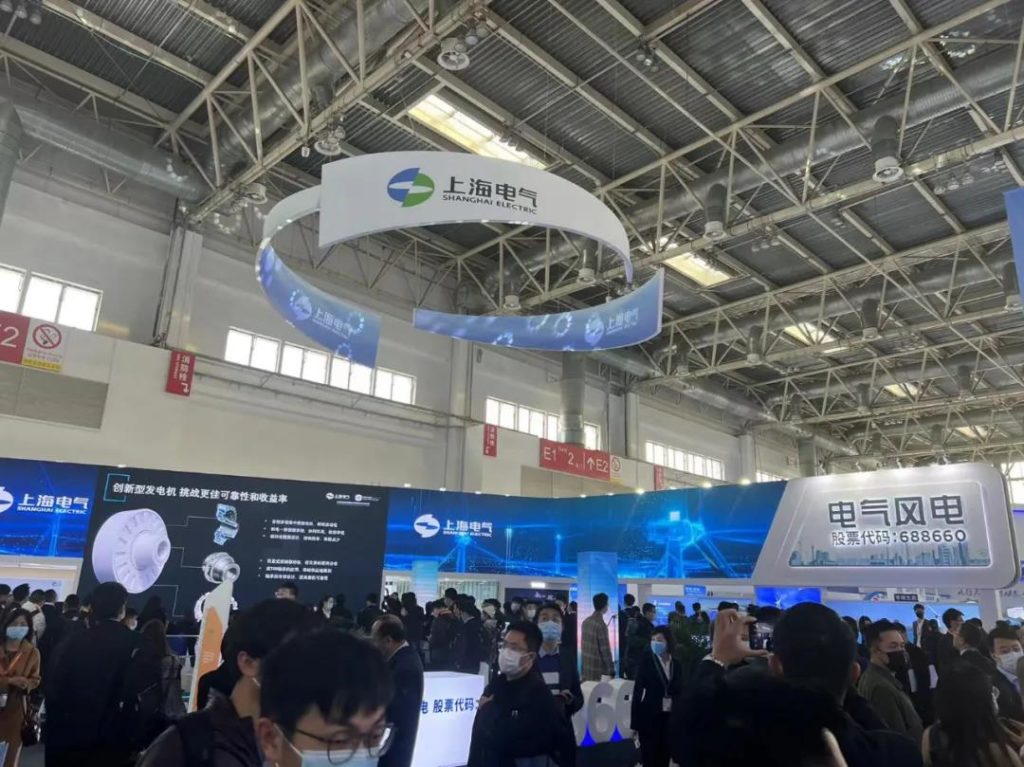 Guodian United Power
During CWP2021, United Power published their 6.XMW and 7.XMW platform series products, which adopted 184m /195m super diameter rotor to realize the high reliability and lightweight design of large flexible blades.Combined with the sea&land integrated common platform design, it provides users with more design options.
During the exhibition, United Power successively signed strategic cooperation contracts with Sinoma blade, ChongTong Chengfei, Dalian Heavy Industry, CGC and other enterprises.
Haizhuang
On October 18, 2021, the press conference and certification ceremony of H256-16MW offshore wind turbine, an leading product of China State Shipbuilding Corporation Haizhuang Wind Power Co., Ltd. (hereinafter referred to as "China Haizhuang") was held during CWP 2021. The press conference was presided over by Mr. Wang Manchang, chairman and deputy general manager of China Haizhuang. H256-16MW unit (certified by CGC) from China Haizhuang is the largest offshore wind turbine in China at the time being.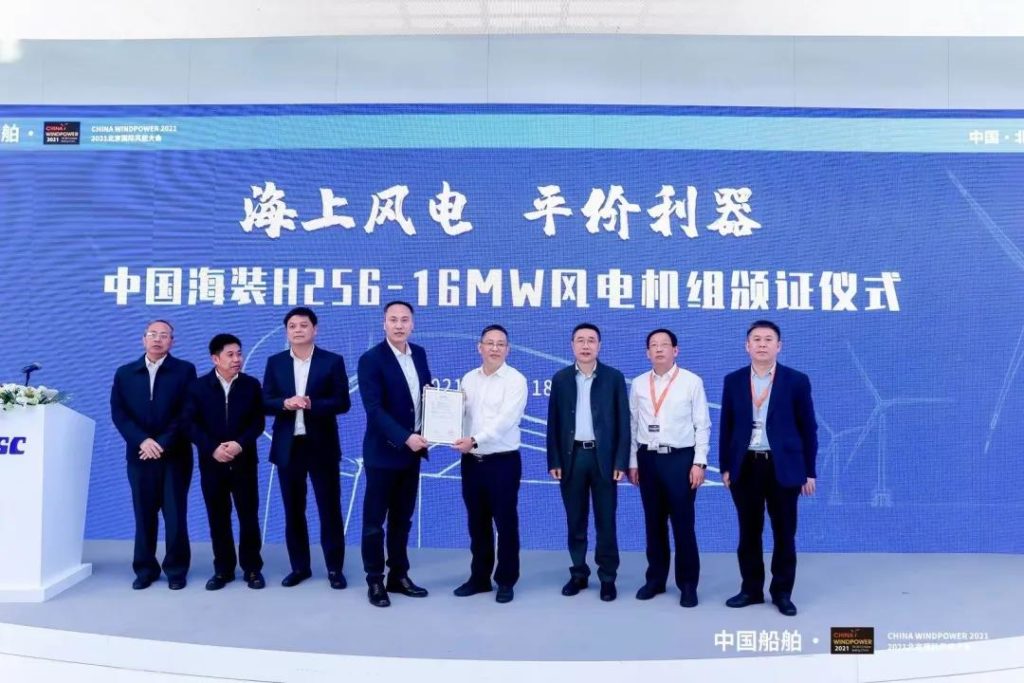 SANY
At the opening ceremony of CWP2021, Li Qiang, chief engineer of Sany, attended the launching ceremony of "Wind Power Partnership Action · Zero Carbon City, Rich & Beautiful Countryside". 118 municipal government representatives and more than 600 wind power enterprises jointly issued specific action plans for wind power partners.
During the wind energy exhibition, Sany Motor released a 7.2MW doubly fed wind turbine motor and showed two new turbine models YSK72-04 and YSK72-06A.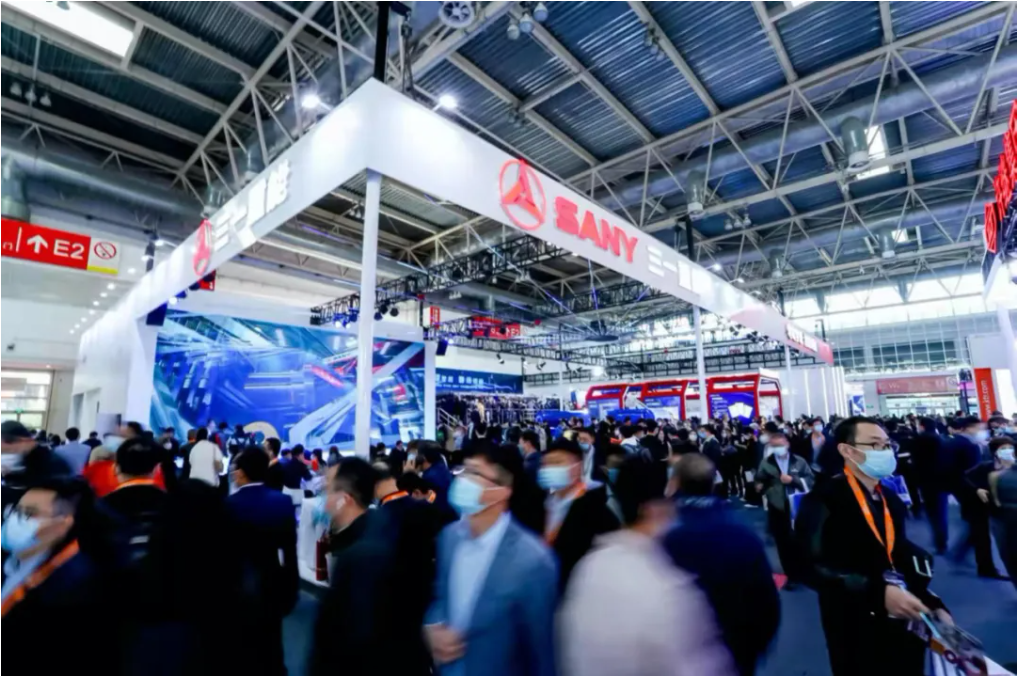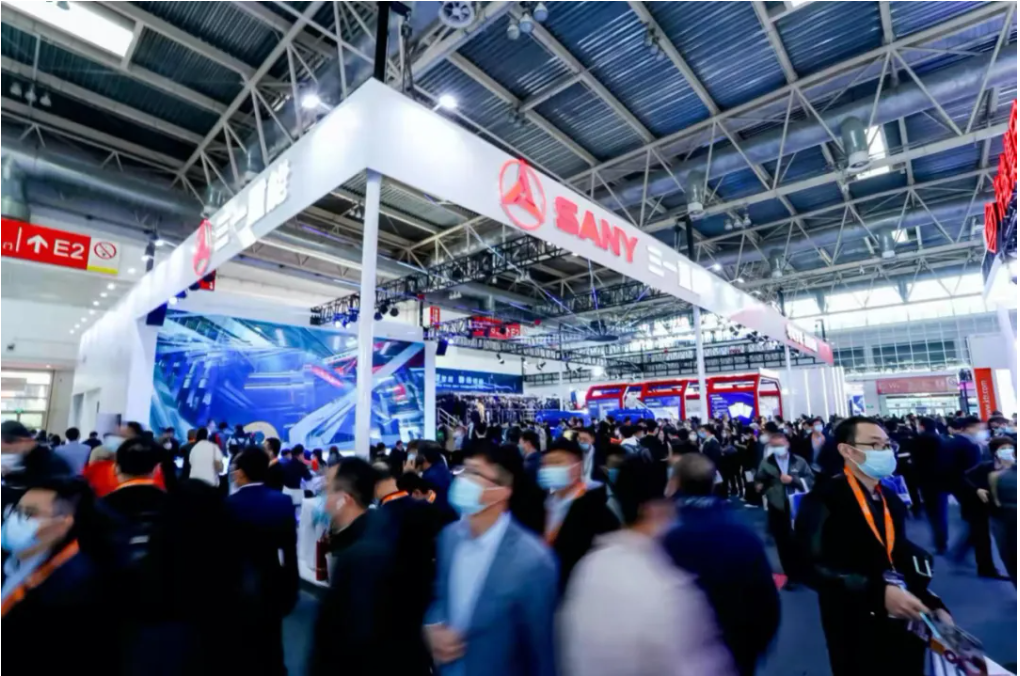 Harbin Electric Wind Power
On October 19, 2021, Harbin Electric Wind Power released a new pilot series 4H platform medium speed permanent magnet wind turbine. Pilot series wind turbine is another new masterpiece of Harbin Electric Wind Power after launching he high-power and high-end wind turbine Series in May 2021. On the basis of optimizing the 4H platform medium speed permanent magnet wind turbine, Harbin Electric Wind Power will continue to layout the application and exploration of this new technology field, and accelerate the research and development of a new generation of pilot series 7H platform.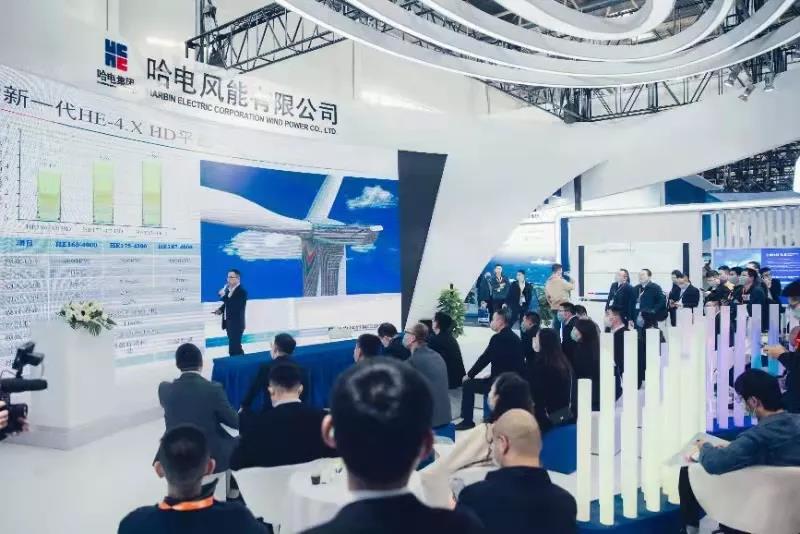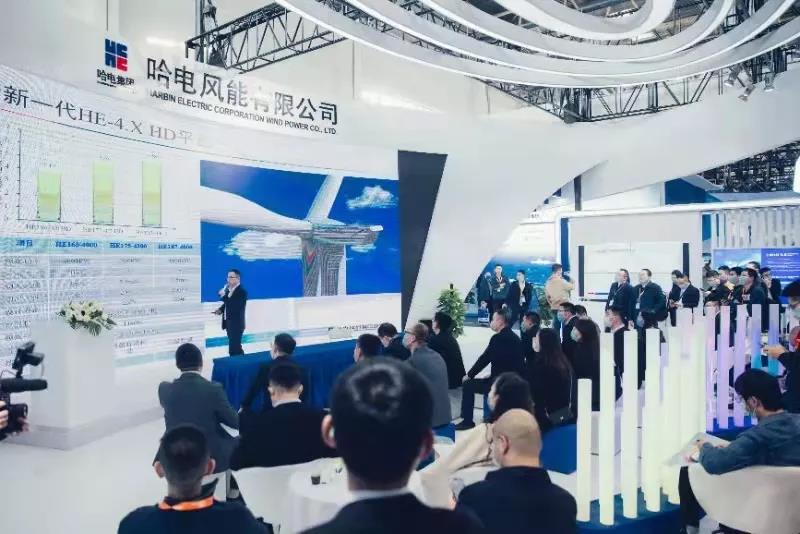 CRRC
On October 18, 2021, CRRC released the new technologies and products representing the future development direction, such as 5.X MWD175, 6.X MWD185 and 7.X MWD195 units, CRRC wind turbine "Jixing" platform series products, 7. X MW onshore high-power wind turbine platform.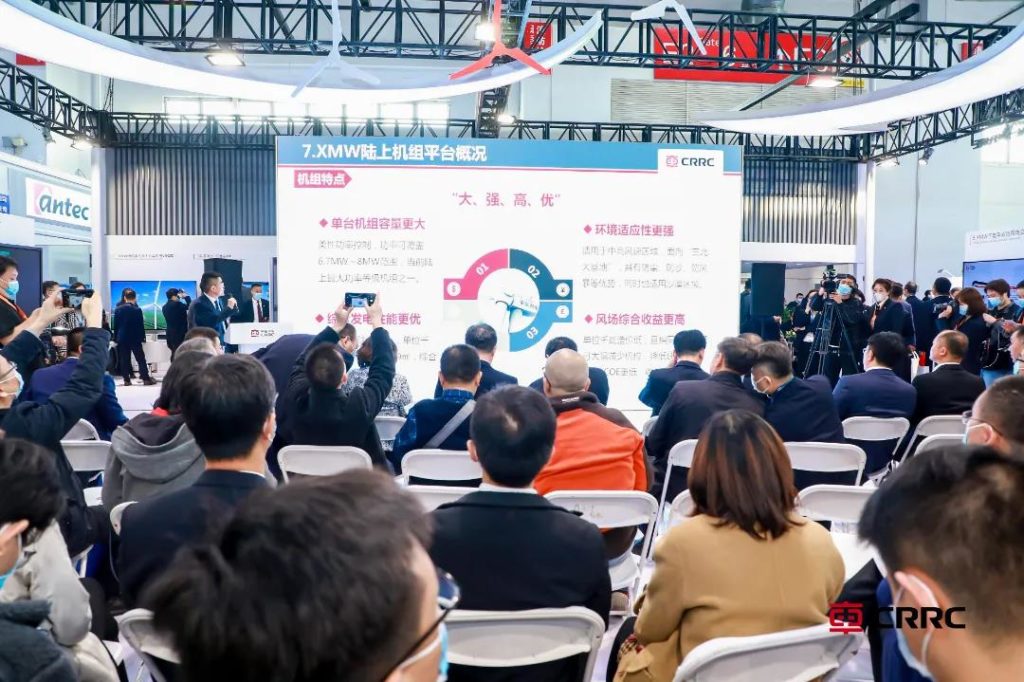 Zhongfu Lianzhong
On October 18,2021, γm3=1.0 blade root component, independently developed by Lianyungang Zhongfu Lianzhong Composite Material Group Co., Ltd, has obtained the world's first certification certificate issued by DNV, which is a milestone for Zhongfu Lianzhong and DNV. Based on γm3 coefficient =1.0 and high-level test load, this certification outputs high limit and fatigue characteristic values, so that 90-100m onshore and 100 + m offshore blades can use blade roots with smaller diameter.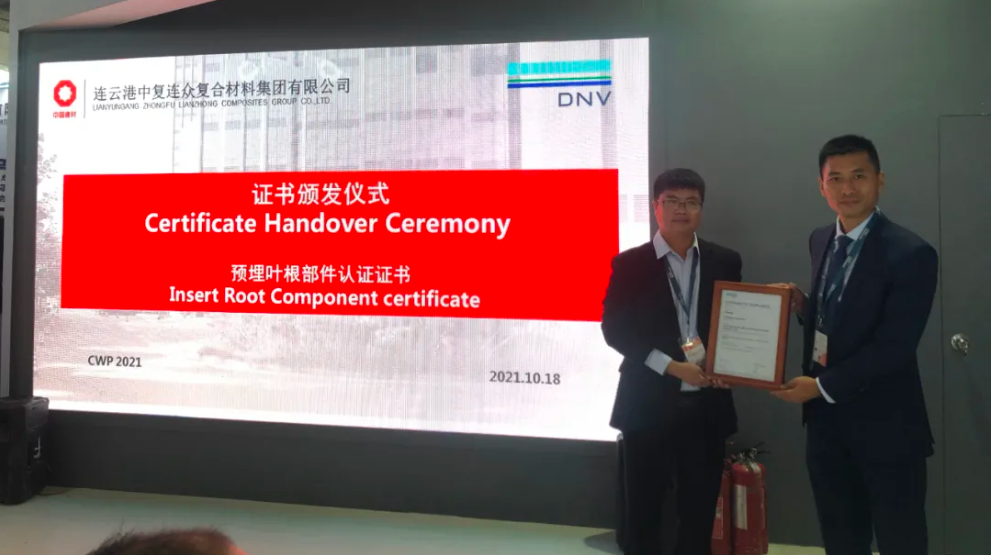 Sinoma
During CWP2021, Sinoma released its latest onshore and offshore wind turbine blades:
Onshore:
Sinoma95/19X-6.XMW, low cost and high performance all glass fiber blade
Sinoma85.8/175-5.XMW, the longest all glass fiber blade of onshore 5MW platform
Sinoma90 / 18X-5.XMW can quickly respond to the needs of large-scale onshore wind turbine
Offshore:
Sinoma95 / 19x-6.XMW, lightweight design, all glass fiber application
Sinoma120 / 245-12MW, supporting demand for large-scale offshore wind turbine
LM
On October 19, 2021, LM Wind Power celebrated the 20th anniversary of the company's operation in China and officially announced that it would start producing its No. 46,000 wind turbine blades in China at its Fujian plant. Mr. Ma Lei, Danish ambassador to China, Mr. Qin Haiyan, Secretary General of China Wind Energy Association, Mr. Li Fei, vice president of Goldwind, general manager of wind turbine business, and Mr. Xu Gang, vice president of Envision were invited to attend the event.