On September 27, 2021, Windey Co., Ltd. released WD225-9000, an anti typhoon 9MW offshore wind turbine platform named"Haifeng", one of the Windey Haifeng series products. The model of the platform has been certified by the authority and has the capacity of batch delivery in 2022. The wind turbine unit has the following advantages:
Excellent power generation and higher cost performance
The 9MW Haiyao platform anti platform offshore wind turbine has a single kW sweeping area of 4.42 ㎡/kW, which is the largest anti platform unit with the same capacity and single kW sweeping area in the market at present. Through intelligent strategies such as anti typhoon control strategy, storm crossing control and adaptive control, the effective load is reduced by 10% and the power generation performance is improved by 15%. The annual average wind speed in typhoon offshore area is 8.5m/s and the equivalent power generation hours are >4000h. The launch of high-capacity offshore products will effectively reduce the construction costs of foundation, submarine cable, hoisting and other projects, and reduce the total cost of project construction.
Highly reliability and strong environmental adaptability
The transmission system of 9MW offshore Haiyao platform anti platform offshore wind turbine adopts the classic high reliable technical route of high-speed transmission and 1140V three-level, and is equipped with anti platform control strategy, anti salt fog, anti-corrosion, anti mold and temperature control environmental monitoring and control system.
Integrated design of wind turbine unit foundation
Through the global overall optimization of the integrated design of wind turbine, the interface data interaction mode between the unit and the foundation iterative bottom flange is changed to realize the unification of design standards and integrated modeling, the integrated loading of wind, wave and current combined working conditions, and the extraction and analysis of ultimate strength, fatigue life and frequency results, so as to effectively reduce the ultimate bending moment of the support structure by 10% and the equivalent fatigue by 5%, The overall weight is optimized by 6%, the overall work quantity of the supporting structure is the smallest, and the levelized cost of energy of the project is the lowest.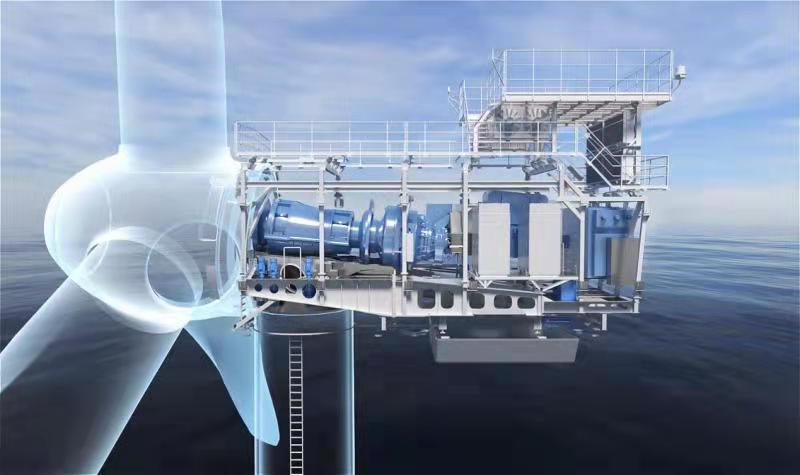 Windey's "Haifeng" series platforms are committed to developing offshore parity market units that meet the needs of low wind speed sea areas, medium and high wind speed sea areas, typhoon sea areas and far-reaching sea areas, and will promote and lead the construction of offshore wind power parity market. At the same time, Windey also actively explores the integrated industrial model of offshore wind power + offshore pasture, hydrogen production, marine tourism and other new energy guidance, providing new development paths and solutions for new energy.
Source: Windey Co., Ltd
Edited and translated: Following The Wind