Keywords: COP26, Wind industry
Text:
On March 31, 2021, the leading enterprises and associations of global wind power industry announced the establishment of the Global Wind Power Industry Alliance (the Alliance) of the 26th United Nations Climate Change Conference (COP26) . The alliance, convened by GWEC (Global Wind Energy Council) and RenewableUK (British Renewable Energy Association), will launch a series of activities this year to help governments, economies and communities pay more attention to wind energy, increase investment in wind power on a large scale, ensure the realization of carbon neutral goal, and prevent the process of global warming.
Activities of COP26 global wind power industry alliance are as follows:
Promote the important role of wind power in the process of carbon neutralization, launch a special website to provide resources and materials, and help the global wind energy industry to make a consistent voice.
Strengthen contact with decision makers in key wind power markets (onshore and offshore) and formulate wind energy development plans, including setting more ambitious goals and designing reasonable development supervision.
Cross sectoral cooperation with other technologies and industries and joint commitment to achieve system wide decarbonization.
Promote offshore wind power globally and help governments set specific goals to achieve the vision of 1400GW of global offshore wind power by 2050 set by the Ocean Renewable Energy Action Coalition (OREAC) .
The global wind power corner is set up at the COP26 conference in Glasgow to provide a platform for the wind power industry to hold conferences and other activities.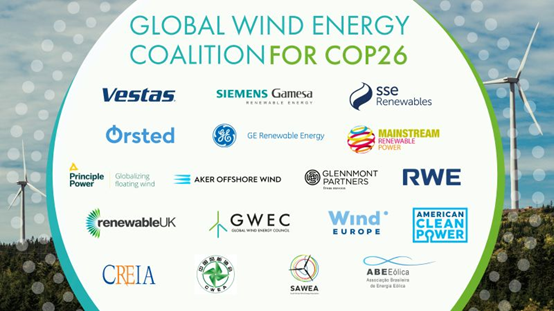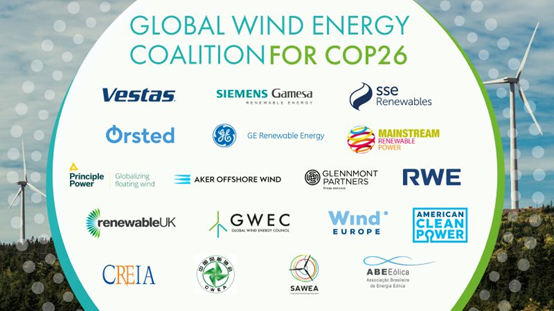 The efforts of the two associations are supported by the leading enterprises in the wind power industry. Vestas, SiemensGamesa, Ørsted, Mainstream, SSE, RWE, GE, Glennmont Partners, Aker Offshore Wind Power and Principle Power have joined the Alliance. The event was also supported by national and regional associations from all over the world, including WindEurope, CWEA, CREIA, ACP, ABEEólica.
Companies and associations in the Alliance will also work together with policy makers, communities, businesses and the financial sector to make recommendations on the key challenges of global energy transformation, including climate financing mechanisms in emerging economies; a reasonable transition from fossil fuel dependence to clean energy in the public and private sectors, such as alternative employment opportunities in the wind power industry; and a clear and reliable carbon pricing framework that reflects the social cost of greenhouse gas emissions.
Source: GWEC
Edited and translated: minds:connected