Keywords: Global Wind Blade Supply Chain 2020
Text:
GWEC (Global Wind Energy Council) released Global Wind Blade Supply Chain Update 2020. It points out that the production of wind turbine blades has spread all over the world, with a small amount of production capacity in Africa and the Middle East, in addition to Europe, Asia, North America and South America. There are 15 original equipment manufacturers in the world with their own blade production plants, which meet about half of the market demand, and the other half is provided by about 20 independent blade manufacturers from 14 countries (regions) on four continents.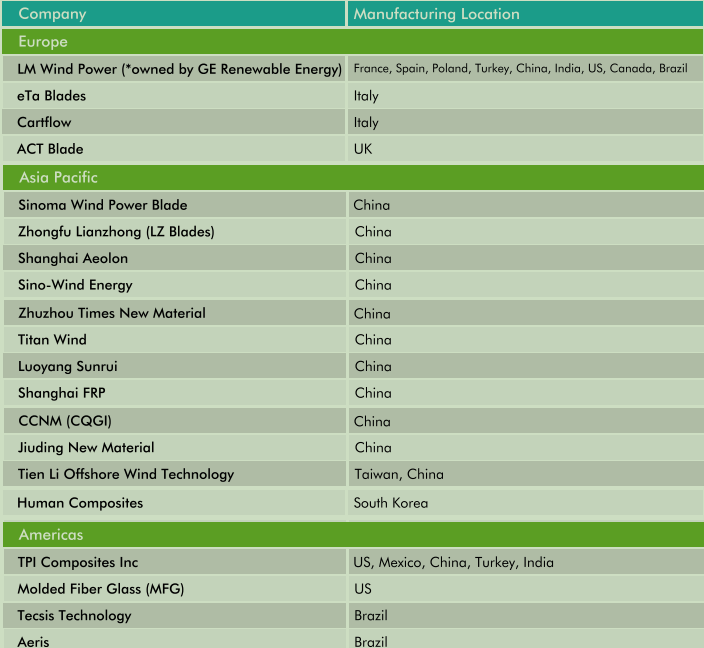 In the past four years, the number of independent blade manufacturers has decreased by one-third. In addition to mergers and acquisitions, some small and medium-sized manufacturers can not compete with large enterprises in terms of cost, R & D investment and global layout, and can only decide for withdrawing.
The development of global offshore wind power market has been accelerated, which means that the demand for large-size blades will increase rapidly. According to the report, the world's existing blade capacity can meet the market demand in the next few years, but manufacturers need to adjust the mould and production line in time to adapt to the production of longer blades, so as to avoid supply bottlenecks. At the same time, blade suppliers also need to layout their production capacity from the strategic level, so as to better respond to the needs of different markets.
Click the link below to download the complete report:
http://following-the-wind.com/wp-content/uploads/2021/03/Global-Wind-Blade-Supply-Chain-Update-2020.pdf
Source: GWEC
Edited and translated: minds:connected