Key words: Goldwind, 5MW wind turbine, Smart equipment
Abstract: The first GW155-4.5MW wind turbine produced in China's first land 5MW wind turbine smart equipment manufacturing base-Goldwind Xingan'meng wind turbine generator system base on July 20, 2020.
Text:
The first GW155-4.5MW wind turbine produced in Goldwind Hinggan League wind turbine generator system base(hereinafter referred to as the "base") on July 20, 2020. This is the first land 5MW wind turbine smart equipment manufacturing base in China.
This turbine will be sent to Hinggan League 3 million KW old revolutionary base area wind power poverty alleviation project owned by China General Nuclear Power Group.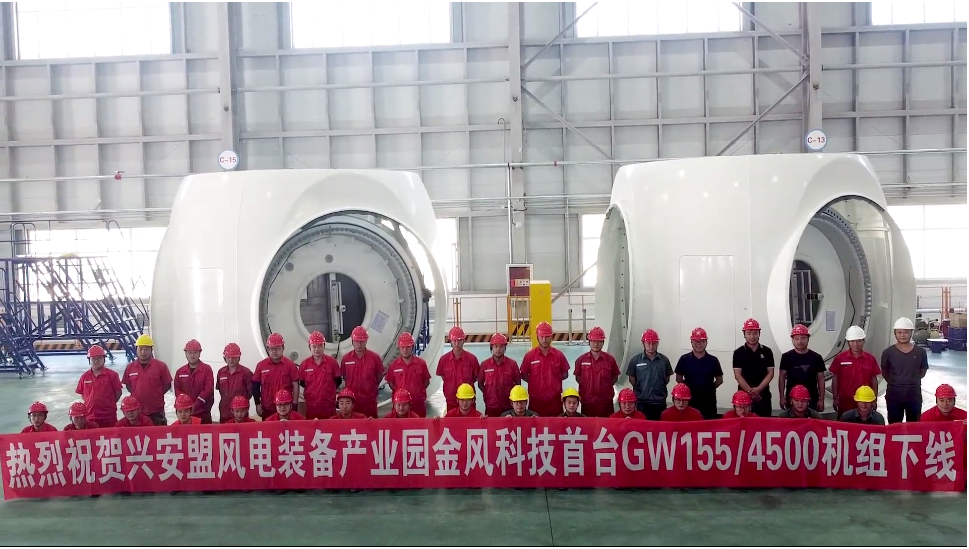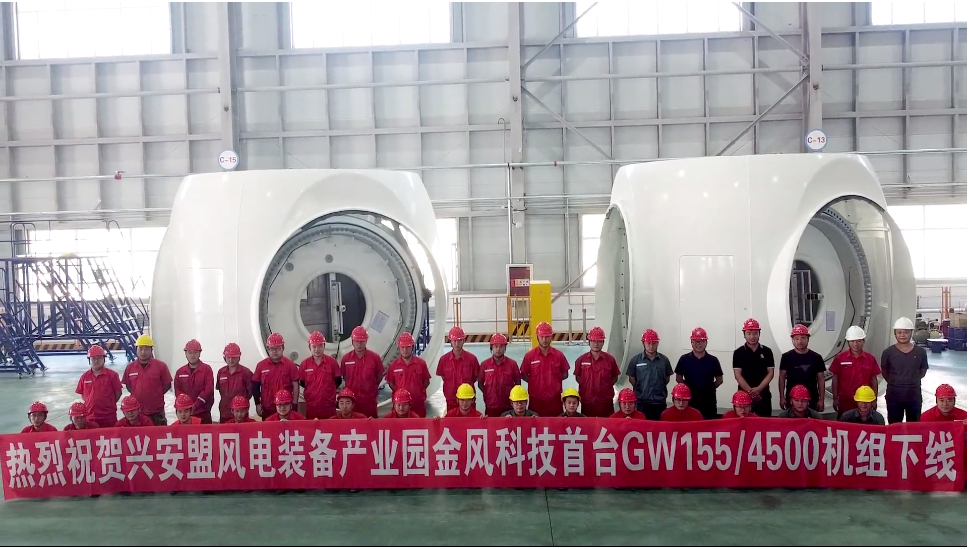 GW155-4.5MW adopts international advanced design concept and inherits advanced and reliable technical characteristics of wind turbine of Goldwind. It is a new flagship of China's onshore wind turbines.
Reliable gene. By adopting direct drive permanent magnet technology route, the transmission system is simple and efficient, and the related parts are reduced by 30% compared with the traditional technology, realizing the stable income of the whole life cycle of the project.
Stable grid connection. It can not only meet the requirements of UHV transmission line fault conditions, but also has certain margin and good adaptability. It has obtained the test reports of authority organizations such as low voltage ride through, high voltage ride through, and power grid adaptability.
Applicable design. The unit capacity is 4.5MW, and the diameter of the wind turbine is 155m, which achieves the levelization and optimal electricity cost.
Fast delivery. Thanks to the platform design, more than 95% of the spare parts and 80% of the structural parts can be used in the same platform and share the production capacity, so it has the ability of rapid batch delivery.
Widely recognized. Since the first prototype was put into operation in June 2019, the availability rate has remained above 99.7%.
At present, the model has obtained the type certification certificate issued by the authority, and obtained a large number of orders from Ulanqab, Hinggan League and other Chinese northeastern bases and international markets.
Source:Goldwind
Translated and edited by: minds:connected